Change Management

Driving change success by preparing, equipping and supporting individuals to thrive through change.
What is Change Management?
---
Change and results are interwoven. To get the results you desire you need successful change.
Change management is the people side of organizational change—whether you're implementing a new strategy and culture, system or process changes, or responding to market trends like digitalisation. It focuses on ensuring that everyone who is impacted by this change embraces your new direction or adopts and learns to use your new systems and processes. 
Since 2017, Change Partners is an Affiliate Partner for Prosci® and the sole provider of Prosci® methodology and tools in the Baltic States and Finland (through Flow Consulting).
Prosci has developed a systematic and holistic change management methodology adopted by 70% of the world's largest companies. It's based on 20 years of industry-leading research and proven experience on what it takes to drive successful change.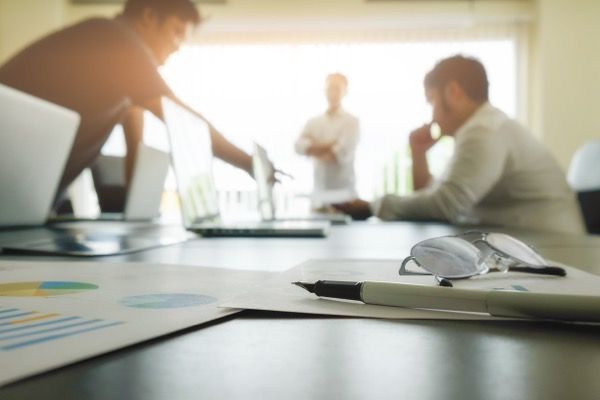 We focus on results through people and impactful change
---
We partner with you to design and implement results-focused Change Management strategies.
We help to prepare your people to lead successful change.

GROW INDIVIDUAL SKILLS &
COMPETENCIES

SUCCEED AT MUST-WIN PROJECTS

BECOME A 
CHANGE-READY ORGANIZATION
Interested in learning more about change management?
Subscribe to the Change Management Starter Bundle email list.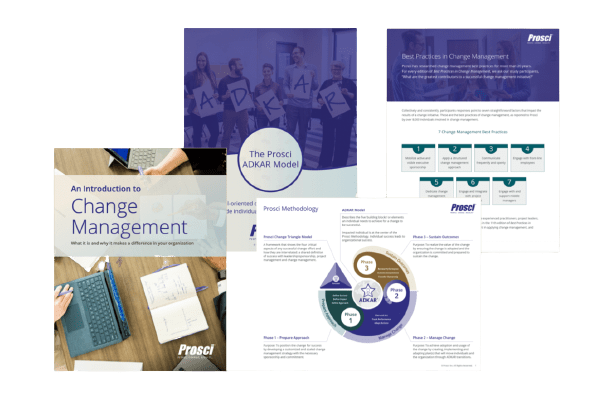 Why Change Management?
---
How you manage change impacts the things that matter most to your organization, including your employees, your customers and your profitability. Given that organizations are facing faster and more complex changes than ever before, the reasons for change management are only growing. But more than anything, change management prepares, equips and supports employees, so they can engage, adopt and use the change successfully.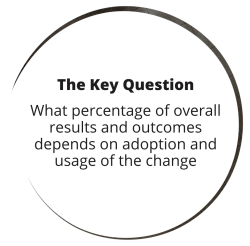 Improving project outcomes
Project management, which focuses on the technical side of change, and change management, which focuses on the people side of change, both play critical roles in change success. When using a best-practices approach to managing change such as implementing a new accounting platform to streamline processes, how much can you improve the likelihood of meeting your project objectives? By a whopping 6X, according to Prosci's research, where we've been surveying practitioners around the globe for more than 20 years: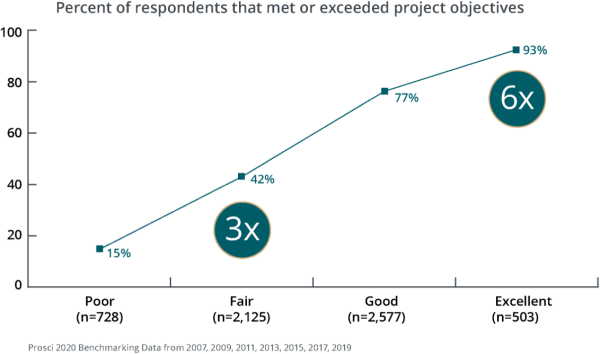 The costs and risks of mismanaging change by ignoring the people side of change can be significant, impacting not just project outcomes, but timelines, budgets and more.
Prosci's research consistently shows that organizations with excellent change management achieve greater success with change.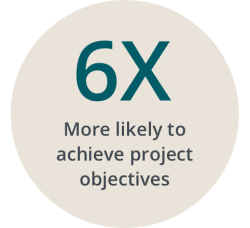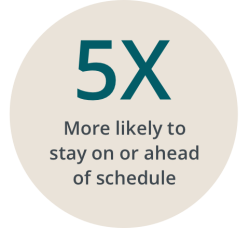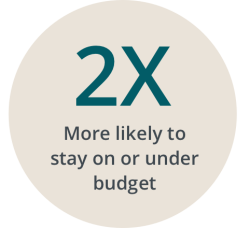 Change Management Impact on Your Organization
WITHOUT CHANGE MANAGEMENT
Employees feel surprised by the change
Extended project schedules
WITH CHANGE MANAGEMENT
Employees feel prepared, equipped and supported
Likely to meet the objective

Likely to stay on schedule

Capture people-dependent ROI
Top Reasons Clients Choose Prosci
---
When you partner with us, you get access to globally leading tools and best practices and over 25 years of proven experience on what it takes to drive successful results.
20+YEARS OF CHANGE
MANAGEMENT RESEARCH
100 000+PEOPLE TRAINED &
CERTIFIED WORLDWIDE
80% OF FORTUNE 100 COMPANIES
PARTNER WITH PROSCI
Prosci Methodology
---
Prosci has been at the forefront of change management research for more than 20 years. Prosci Methodology is based on the collective lessons learned by those implementing change across the globe and it is one of the most widely used approaches to change management in the world.
The Prosci Methodology and its associated models, tools and processes are based on years of research, making it a true best-practices approach to change management. Let's take a look at two of the main components of the Prosci Methodology: the Prosci ADKAR Model and the Prosci 3-Phase Process.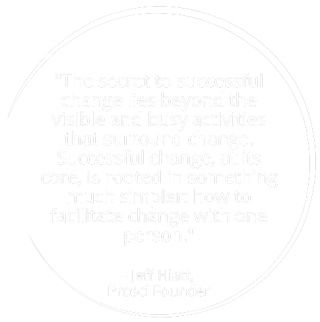 Organizational change begins with managing individual change
---
Change is often a complex and difficult process—and it's inevitable. The most commonly cited reason for project failure is problems with the people side of change. Yet organizations often invest more in the technical side of change than in leading impacted people through times of change.
The first step in managing any type of organizational change is understanding how to manage the change that a single individual is experiencing.
So the question is, how do we facilitate this individual change that leads to organizational change? Most important, we use a structured process—the ADKAR Model—to guide individuals through a particular change to ensure that they embrace and adopt the change.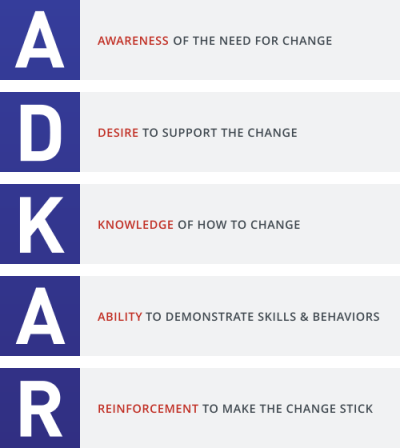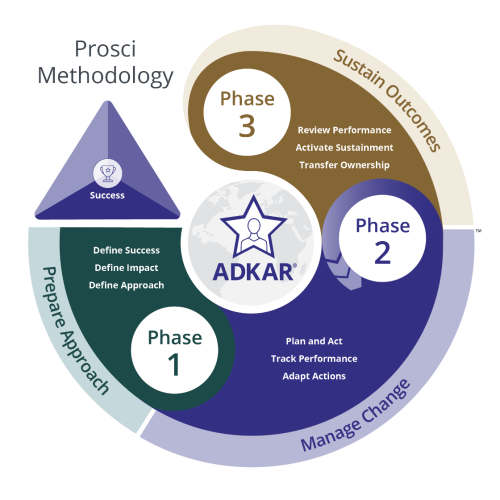 A framework for organizational change
---
While the ADKAR Model enables successful change at the individual level, the Prosci 3-Phase Process provides a framework for achieving change at the organizational level. This structured yet flexible process guides practitioners through performing the steps and activities needed to achieve success on a project or initiative. Practitioners apply components of the Prosci Methodology, such as the ADKAR Model and PCT Model, within the framework of the Prosci 3-Phase Process.
On the left, you can see the basic structure of the Prosci 3-Phase Process and below the goals of each phase.
Ready to learn more about the Prosci Methodology and industry best practices?
Subscribe and enjoy our free Change Management Starter Bundle.