Framework Design
Designing and implementing main expectations and transition principles for each leadership or specialist role. Mapping positions according to pipeline goals.
We have a flexible delivery model which will be designed on the basis of your needs and learning culture. Together, we will explore what approach works best for your organization.
The scope of our role depends on what you are in need of and what internal resources you have in place for the project. Our contribution would most often focus on:
Mapping core leadership roles
Define performance standards for different leadership roles
Define work values, time application and skills for different leadership roles
Designing and delivering leadership transition programs for the core leadership roles
Design and implement a succession planning process
Most companies start with one or two of the above-listed initiatives. The extent of our involvement in each area varies from assignment to assignment.
Much More Than Traditional Training Programs
We offer not only to train leaders and specialists in relevant leadership and specialist capabilities at their level. Our Training Programs will be integrated with your business ambitions and people processes. Our approach is uniquely designed to implement and anchor the essential stepping stones in your business ambitions and includes your:
a)    business strategy
b)    company values
c)    leadership model/framework/principles
d)    key HR tools and processes
Most organisations spend years implementing these fundamental processes and their leadership model. We can make sure that as a result of these programs, they are strongly anchored throughout your organization.  
Many clients also request that their own specific content be included in the programs in order to establish a connection to other ongoing business or training initiatives.  
Together, we will co-create the solution that best meets your needs.
THE KEY TO SUCCESS
---
The key to successful strategic talent management is to start viewing your organization as a talent factory. Each job in your organization represents not only a job to produce and deliver the products and services that your clients request but also a job that can develop a person. 
Turning your organization into a talent factory needs an integrated approach to talent management. It starts with developing the right mindset and setting the right priorities at each level of leadership. At the same time, all people tools and processes need to be in line with that and support the end game.
When this is in place, you need to develop a culture of discipline as regards the tools and processes.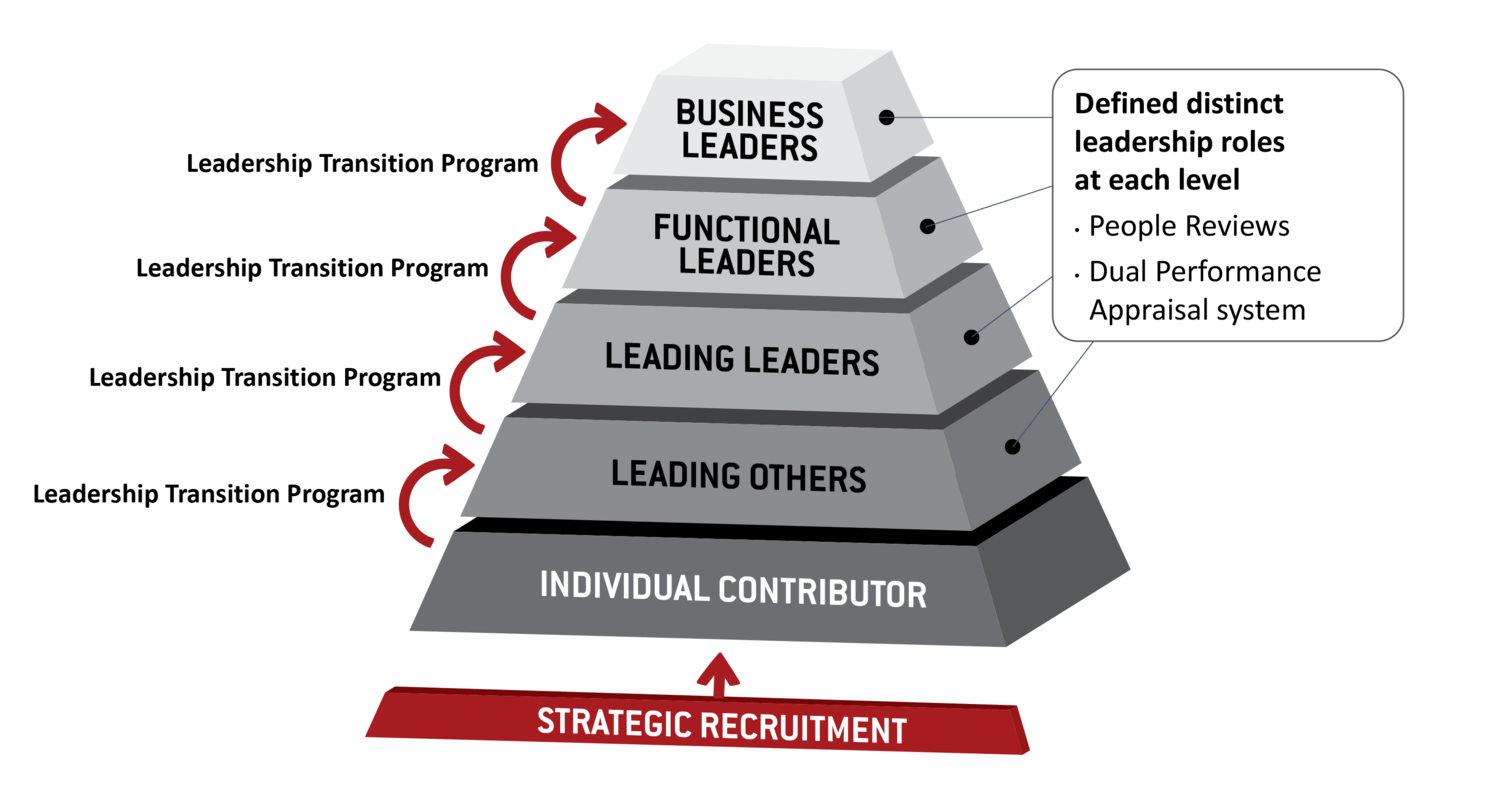 Example of a 4-Month Blended Learning Journey of Leadership Transition Program
---