Client need
Design agency Velvet had reached a stage in its development where the current structure no longer enabled the company to be managed effectively and to provide sufficient support to its people. They decided to create a layer of middle-level managers by promoting people from within the company to this role. For the new leaders to have better preparation and management tools in their new role and a common understanding of the responsibilities of the leader, we conducted a
Leadership Pipeline management program
at Velvet.
Our solution
The main goals of our 6-month program were:
Set common standards for Velvet's management levels and describe expectations for different management levels
Create clarity on what it means to be a Velvet leader, what skills and behaviors are needed and how to develop as a leader
Lay a foundation for a leadership-based culture that is based on taking responsibility
Overview and structure of the
Leader of Others
program: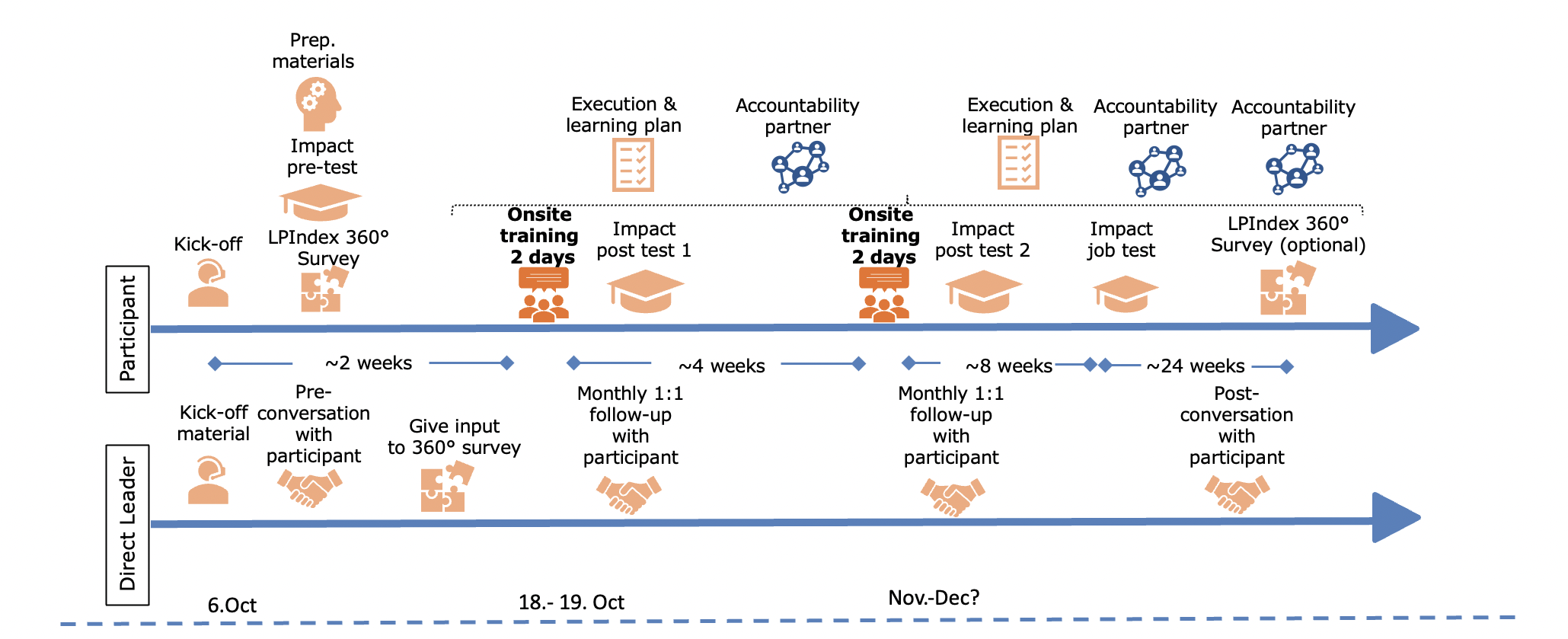 Results
We measured knowledge, attitudes, and behavior before the training, immediately after the training and 3 months after the end of the program. The results are benchmarked against the average of the training impact assessments collected by the international training auditor
Peopleway
.

The rate of application of the principles and skills acquired during the program is
particularly significant
- 3 months after the program, participants apply 80% of their learning and this is reflected in their daily activities. This is 37% higher than the international average.
Feedback
Velvet CEO Pärtel Vurma
"The biggest benefits and impact of the LPI program came from understanding the role and goals of a leader and in better organizing my work. Understanding that as a leader I achieve my goals through the success of others is important because these people used to be top specialists, whose success then depended primarily on individual contribution. This fundamental principle now allows managers to better understand their role, plan time, and prioritize tasks. This is especially true for those who, in addition to the role of team leader, continue to play the role of top specialists. The tools learned in the program were also very useful in helping team leaders set goals for themselves and their team, provide feedback, delegate tasks, and build and develop a team. One of the most valuable parts of this program for us was the opportunity to discuss the company's goals and processes, as well as issues related to cooperation and development. Very well-structured and third-party moderated discussions on various topics gave us the opportunity to agree on principles that had not been explicitly described before. In addition, the program gave us a common and clear vocabulary to use for these conversations. It is a kind of long-term value tool that we have continued to use since participating in the program. In conclusion, Velvet and I are only at the beginning of this journey, but a very strong foundation has been laid thanks to the Change Partners' LPI program. From here, the development will take place on a much stronger basis. There is a lot of experimentation in our field, and we value and even encourage it in our team and culture. A strong foundation and a well-run organization give you the confidence to be creative and experimental. It allows us to keep moving forward towards our goals with confidence. "