The Value of Change Management Certification
Is certification really necessary? Doesn't experience alone qualify us? Let's explore the question—because the bottom line is that there are some definite advantages to receiving change management certification.
The value of certification
First, we can turn to the data. Participants in the Best Practices in Change Management – 2018 Edition were asked if they had attended a change management certification program, and more importantly, whether they would recommend that others become certified in change management.
90% of participants recommended change management certification, and here's why:
Gain a structured approach – Certification provides a clear, formalized methodology and process for doing change management. It also provides a structured way of thinking and deepens your understanding of the dynamics of change.
Build skills and credentials – Certification increases professional credibility and is an important step for advancing your career. Certification also builds confidence in your ability to succeed at change management, and it equips you with a variety of important skills that are applicable within and outside of change management settings.
Acquire common and universal tools – Certification provides tools, templates, techniques and exposure to methodologies, common practices, language and frameworks that you can immediately apply to change projects—all delivered by experts in the field.
More likely to achieve desired outcomes – Participants felt that by attending certification, they were more able to help their organizations recognize the value of change management and assist them in creating a standardized approach to managing change that increased proficiency and the likelihood of achieving desired outcomes.
"Now I have specific knowledge on how to implement changes well, systematically and successfully."

– Pipedrive, Mario Tasane
Change management training – what to expect?
Prosci goal is simple – to provide a hands-on approach to change management that enables you to apply practical tools, best practices, and appropriate models right away on your change project.
Important topics that are covered in the training:
The nature of change management – Certification provides an overview of what change management really is, why it needs to be implemented, what are the benefits of using it, and how it can increase the success of any project
Prosci ADKAR model – an overview of the five success factors of change (awareness, desire, knowledge, ability, and reinforcement) and how to achieve change acceptance
Prosci change management process and specific change management plans – communication plan, sponsors roadmap, resistance management plan and other managerial activities in the context of a change project
Applying tools to real change – various tools to evaluate change before implementation, such as readiness and impact assessment
As a bonus, upon completion, you can promote yourself as a qualified Prosci Certified Change Practitioner with this snazzy badge!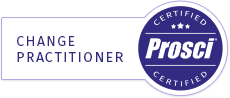 Check out the next Prosci certification courses here.