Client need
In 2019, Swedbank conducted a cross-group management culture survey, which showed that approaches to successful management had been approached quite differently in different parts of the organization. Although the organization performed excellently, the group's management understood that in the long run, Swedbank needed to update its management system and management culture to meet the needs of the modern operating environment and, above all, the modern organization.
Our solution
Under the leadership of Leadership Pipeline (LP) Sweden, the development programs of LP leading others and leading leaders were completed for Swedbank and implemented by Change Partners in Estonia. As a result of the 4-day program, all participants analyzed their daily work as a leader, found exact places where the managed team or manager himself would need support, and formulated a development plan that would be implemented with the support of the development partner.
Leader of Others
program overview and structure: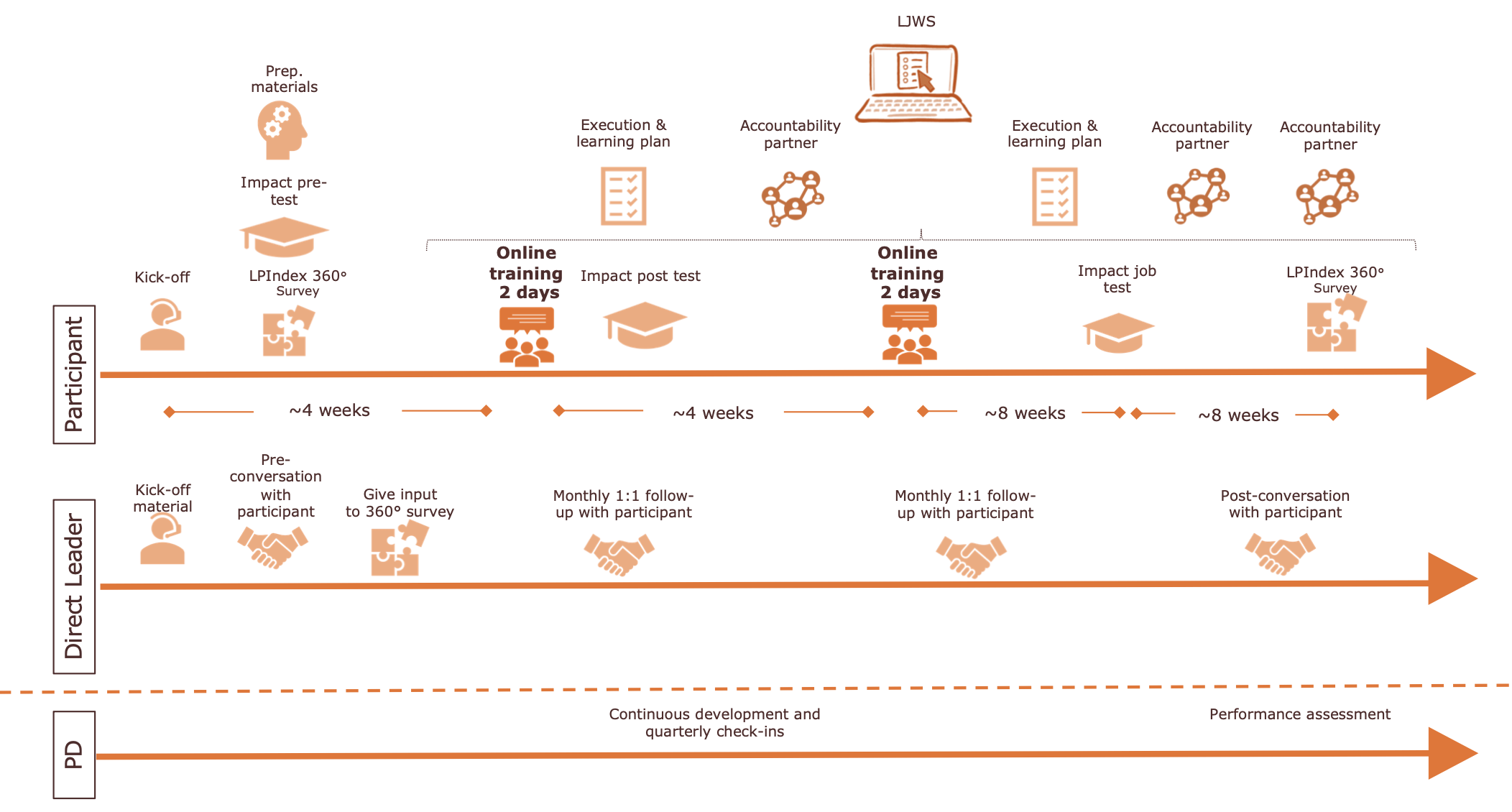 Results & feedback
In 2021, three groups of Swedbank Estonia completed the LPI program in Estonia, and an additional two groups are planned for 2022, with a total of more than 100 participants. To the same extent, the program is taking place simultaneously in Sweden, Latvia, and Lithuania. We measured knowledge, attitudes, and behavior before the training, immediately after the training, and 3 months after the end of the program. The results are benchmarked against the average of the training impact assessments collected by the international training auditor
Peopleway
.

The rate of application of the principles and skills acquired during the program is particularly significant - three months after the program, participants
apply 80% of their learning
and this is reflected in their daily activities. This is
37% higher
than the international average.

Feedback from participants
"The program helped to raise awareness of how many people we as leaders influence with our leadership style! And that we actually achieve many of our results through those people. I received good insights and tools to use for developing and motivating my team, as well as for setting goals (ie how to structure goals to be more acceptable and measurable)." "When listening to other leaders in my group work, I always got new ideas on how to develop my team and delegate tasks so that people with different profiles would find new output. In addition, this training motivates to pay more attention to leadership activities. From the survey my team members answered before the training, I found out my own bottlenecks that need special attention."